3 Free Jumbo Travel Packs of SENSA® Personal Lubricant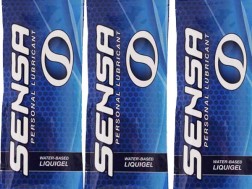 Get 3 FREE Travel Packs of SENSA® Water Based Liquigel Personal Lubricant.
We want to introduce you to our new SENSA® Water Based Liquigel personal lubricant as well as our industry first 1 oz lube travel pack. We are so certain that you will love our lubricant that we are going to mail you 3 FREE travel packs…no strings attached. We want you to experience the best water based personal lube on the market today.  We just ask that you pay $2.95 for the cost of shipping…and we will even give you credit for the shipping cost on any future order from us.
Offered in a convenient 1 oz. travel size, SENSA® Water Based Liquigel travel packs are the perfect size for those on the go.  Our travel packs are easily carried in your pocket, stored in your nightstand, or kept in the glove compartment of your car.
Have you ever had a bottle of lube leak in your luggage while traveling?  With these packs you no longer have to worry and at only 1 oz, they are well below the TSA limits for liquids and gels packed in your carry-on bags. At home, across town or across the country, SENSA® travel packs are the perfect companion.
Scientifically formulated for safety, purity, and long lasting lubrication, SENSA® Liquigel has a thicker formulation so that it stays where you want it.
Water based

Never gets sticky

Latex safe

Non-staining

Thicker liquigel formulation

Full sizes bottles are available in a press top or lockable pump dispenser

Travel Packs retail for $3.95 per pack
And you if you love silicone based lube, check out our silicone liquigel personal lubricant by CLICKING HERE.
The Small Print:
We are offering these travel packs as a way to introduce you to SENSA®, the only thing we ask is the you cover the small cost of shipping the products to you.  Shipping is $2.95 and is billed to a major credit card or you can pay with PayPal.  Offer valid for U.S. residents only in the 48 contiguous United States.  Offer is valid for a limited time. Limit 1 offer per person per address. Product will ship within 5 business days via USPS.